Guided Walks
(Programme to be published)

Everyone is welcome to come along and join with the Friends on our guided walks. We usually meet at the entrance to the woods near the junction of Queenhill and Littleheath Roads and the

walks usually last about 1 ½ to 2 hours.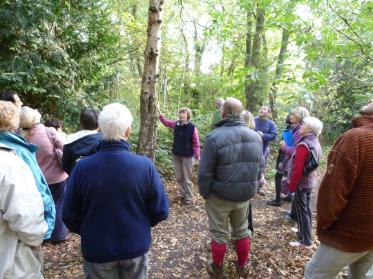 Fungus Foray
Jane McLauchlin will lead our annual Fungus Foray on Friday 20th November 2023 commencing 10am. Please meet at the Queenhill Road steps, junction with Littleheath Road.
Guided Walks
For all walks please meet at the junction of Littleheath and Queenhill Roads (CR2 8DW).
Buses 64 and 433 stop in Farley Road near the junction with Queenhill Road. Plenty of onstreet parking. Some steps at the start of the walk.

A gentle perambulation around the woods for 1 to 2 hours and suitable for all the family. Well behaved dogs on leads welcome.

Friends' Events
Working parties take place in the woods every Tuesday from 9.30am until around 1pm. For details and how to take part please contact Chris on 020 8651 4914
Friends of Littleheath Woods committee meetings take place every 2 months.

Other Events
The Friends of Littleheath Woods have stalls and demonstrations at a number of other events through the year.
We will publish dates as and when we have information:




The Friends support local groups