Timber Piles and Logs for Woodburners

The Friends of Littleheath Woods construct Habitat Piles using sawn and fallen trees to build homes for insects and other wildlife. Please do not disturb the piles of logs or take timber away from the woods for your wood burner. Bagged seasoned logs for your woodburning stove can be obtained from The Friends in return for a small donation to assist us to carry on with our work, purchase tools and equipment and plants. Contact details can be found at 'Contact Us'.

I Spy Activity Sheet

Please feel free to copy and print the activity sheet below to 'collect' the flowers and leaves you find in Littleheath Woods this Summer.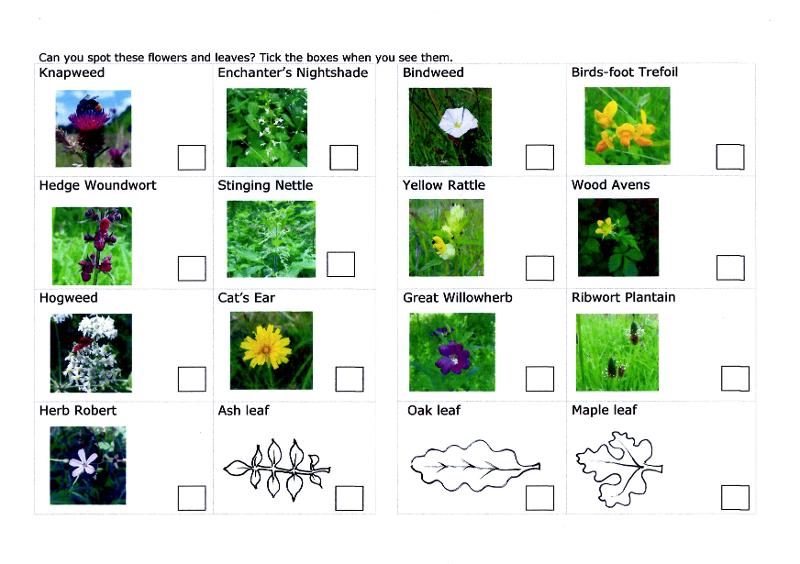 The Grey Menace
People who care for or take an interest in woodland and bird life have long known that one of the greatest problems is the Grey Squirrel.
Imported from North America in the late 1800s, Grey Squirrels arrived after most of the native squirrel predators had been driven almost to extinction. The Grey is much larger than the native Red Squirrel and so out-competes it for territory and food. Greys also carry a disease (Squirrel Pox) which they have some resistance to but which kills Reds. So in less than 100 years the Grey Squirrel has spread over virtually all of Great Britain and the Red has been reduced to small populations in isolated places.
Many people may be aware that squirrels raid birds' nests, taking and eating eggs and nestlings. What people may not know is that they are slowly but surely destroying our woodlands too. They nibble the growing tips out of trees so that the tree is unable to attain its proper height, in effect creating a very large shrub. Worst of all, they strip the bark which can kill the tree.
Nearly 10 years ago we planted a number of rarely seen Wild Service Tree saplings in Littleheath Woods which we have tended and nurtured and most of which have grown into beautiful trees, some up to 20ft tall. These trees, when mature, have showy creamy white flowers, sweet brown berries and attractive Autumn colour. The photos below show what we discovered in late June this year. The squirrels have completely stripped the bark from nearly all the trees, effectively destroying them. We are helpless to protect our woodlands against this type of attack.
Although they will damage all trees, the Squirrels' real favourite is the Beech. Next time you look up at one of these magnificent canopy trees, make the most of it. When they are gone there will be no more. Once the young trees reach around 20ft the squirrels will take out the tops, stopping their growth.
One light at the end of the tunnel is that in areas where Pine Marten populations are recovering (the natural predator of Squirrels) they are going after the larger, slower moving Greys and reducing the numbers to allow the Reds to return. Unfortunately this is happening in West of Ireland and North Scotland so it will take a long time to help us down here in Croydon.
So far there have been limited attempts to control Grey Squirrel numbers as most people don't realise how destructive they can be. So next time you hear someone commenting on how cute or amusing they are please tell them the truth about how much of a pest they actually are. Whatever you do please don't feed the Squirrels as this just makes the problem even worse.
Croydon Council Review of Parks
Croydon Council has announced a proposal to review how parks and greenspaces in the borough are managed. The Council has said it will engage with "the community to understand how the Council can enable our residents to do more and get more out of the borough's parks, and through that process identify community assets that will help provide a more responsive efficient service, enable more community participation and management, potentially generate revenue from an exciting and diverse cultural offer and through this ensure that our parks are protected, pleasant and safe for generations to come." To find out more go to:

https://www.croydon.gov.uk/leisure/parksandopenspaces/croydon-talks-parks
Elm Project in Memory of Paul Shaw
Elm trees, once a quintessential part of the English countryside, were virtually wiped out in late 1960s and 1970s by Dutch Elm disease; it's estimated that over 25 million trees in this country alone fell prey to the disease. The Friends of Littleheath Woods are therefore thrilled to be part of the Great British Elm Experiment, initiated by the Conservation Foundation, and have now planted 8 disease resistant Elm saplings in two sites within the woods (including one sapling from Elmhurst School). This project has been funded by a generous donation from the family of Paul Shaw in his memory.
As some of you will remember, Paul was a prominent member of the Selsdon community for many years. He and his family moved to Selsdon in 1969, and he was vice chairman of the Selsdon Residents Association for 7 years, then Chairman for 8 years until his sudden death in 2012. As well as this, he worked to support the Selsdon Centre and Social Club – driving the bus for the Selsdon Centre for the Retired for many years. He was also a major contributor of articles for the Selsdon Gazette.
We know how fond of Littleheath Woods Paul was and are very pleased to be able to commemorate his contribution to Selsdon in this way.

Horses in Littleheath Woods
Horse riding is permitted in the woods - there is one bridleway and one permissive bridleway. Unfortunately we have had a number of reports and seen evidence of riders using other areas of the woods.

Not all areas of the woods are suitable for horse riding. Horses can cause damage to habitats and churn up pathways, making them unusable in wet weather. Many of the non-bridalway paths also have hazards, such as badger sets and overhanging branches, that make them dangerous for both horse and rider. Many dog walkers also let their dogs off the lead in areas away from the bridleways and we want to avoid incidents that could be bad for the dog or horse.
We would therefore like to remind horse riders that they have to stick to the bridleways when using the woods. If anyone sees a horse being riden in other areas of the woods, please contact the Friends group with a description of the horse & rider (e.g. colour of horse, gender & approx age of rider, colour of riders' clothing, etc.) so that we can bring this to the attention of the local stables and hopefully prevent any further incidents.

Ash Dieback


There have been a number of recent news reports about Ash Dieback (chalara fraxinea) affecting trees at sites in the UK. The Friends group keep an eye out for a wide range of tree diseases and we are pleased to say that at this point there is no sign of Ash Dieback in Littleheath Woods. If you would like more information about Ash Dieback, this is available on
the Forestry Commission website
.
Scots Pine (22/03/17)

There are two mature scots Pine in Littleheath Woods, near to the Water Tower. These trees have suffered much damage in recent storms. The Friends have taken advantage of a natural clearing opening up the canopy to allow more light to the woodland floor where an old Oak near to the Scots Pines had fallen. The Friends have converted much of the usable timber into logs for firewood and cleared the Oak debris and collateral damage and have now planted several Scots Pine saplings on the site. The saplings have been reared by committee members, awaiting a suitable time to plant. One juvenile tree is already almost 2m high and has taken pride of place in our planting site.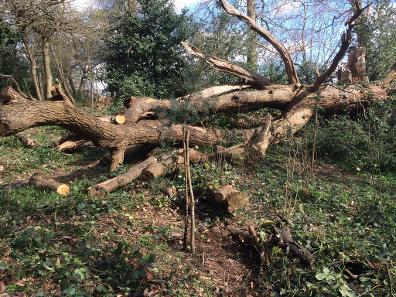 The latest minutes of meetings and other news items can be found in the documents below: