Ward Boundary Changes and Local Policing

The recent changes to Ward boundaries has affected Littleheath Woods: We now sit within the Ward of Selsdon and Addington Village. Our local Councillors are Cllr Helen Pollard (helen.pollard@croydon.gov.uk) and Cllr Robert Ward (robert.ward@croydon.gov.uk).

Our new Local Policing Team details can be found here: https://www.police.uk/metropolitan/00AHGP/

Timber Piles and Logs for Woodburners

The Friends of Littleheath Woods construct Habitat Piles using sawn and fallen trees to build homes for insects and other wildlife. Please do not disturb the piles of logs or take timber away from the woods for your wood burner.

Bagged seasoned logs for your woodburning stove can be obtained from The Friends in return for a small donation to assist us to carry on with our work, purchase tools and equipment and plants. Contact details can be found at 'Contact Us'.

I Spy Activity Sheet

Please feel free to copy and print the activity sheet below to 'collect' the flowers and leaves you find in Littleheath Woods this Summer.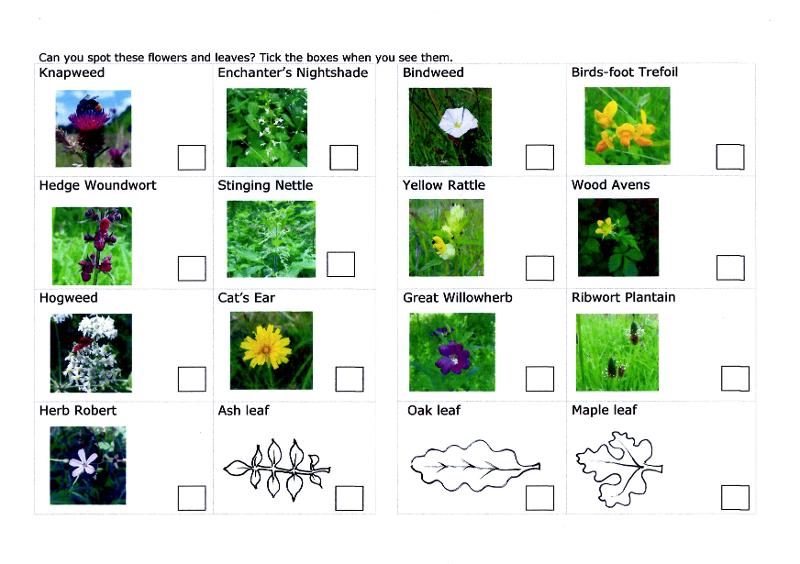 The Friends support New Addington Childrens Centres (NACC) Castle Hill Hub


From Sam Craig, of NACC, Castle Hill:
We were very kindly donated some small log pieces by the 'Friends of Littleheath Woods' to use in our garden at New Addington Children's Centres (NACC) Castle Hill hub. NACC are part of Croydon Best Start, which is a multi-agency model aimed at improving universal and early intervention services from pregnancy, up until the child reaches five years of age. Our aim is to enable and support every baby, child and young person to become equipped with the social and emotional skills, and resilience needed to maximise their life chances and ensure they reach their potential.
Each of our five New Addington children's centre hubs offer a wide range of services, activities and support for parents and carers with children under five years of age. These include health services, stay and play sessions, crèche sessions for children of parents and carers who are attending training courses in one of our centres and bookable sessions for short courses which include cooking cubs, baby massage and more.
We plan our sessions using the Early Years Foundation Stage (EYFS) framework as guidance which focuses on the seven areas of learning and development: communication and language; physical development; personal, social and emotional development; literacy; mathematics; understanding the world; and expressive arts and design. The EYFS encourages children to play, actively explore and develop their creative and critical thinking skills both indoors and outside.
We were excited to be able to use the largest tree stump that was donated to us as another seat for our outside book reading area, where the children enjoy interacting with the outside environment whilst looking through the picture books.
The smaller log pieces were placed in our sensory trays which we use inside the classroom and outside in our garden. These provide the children with the opportunity to use their imagination by enabling them to choose how they arrange the log pieces within the tray and the toys they wish to incorporate into their play. This also allows the children to create their own narrative whilst playing.
Some of the log stumps were hollow inside so we used small cardboard tubes to fill up this space so that they can become a home for all the mini beasts we have in our garden. The children enjoy using magnifying glasses to then look at the insects and identify them on our mini beast banner.
We hope that any future donations of logs and tree stumps will provide our other hubs at CALAT, Wolsey, Good Shepherd and Fairchildes with similar learning, play and exploring opportunities that we have been lucky to have had at our Castle Hill hub.
Please visit our website at: http://ccwebsite8.wixsite.com/nacc







The Grey Menace
People who care for or take an interest in woodland and bird life have long known that one of the greatest problems is the Grey Squirrel.
Imported from North America in the late 1800s, Grey Squirrels arrived after most of the native squirrel predators had been driven almost to extinction. The Grey is much larger than the native Red Squirrel and so out-competes it for territory and food. Greys also carry a disease (Squirrel Pox) which they have some resistance to but which kills Reds. So in less than 100 years the Grey Squirrel has spread over virtually all of Great Britain and the Red has been reduced to small populations in isolated places.
Many people may be aware that squirrels raid birds' nests, taking and eating eggs and nestlings. What people may not know is that they are slowly but surely destroying our woodlands too. They nibble the growing tips out of trees so that the tree is unable to attain its proper height, in effect creating a very large shrub. Worst of all, they strip the bark which can kill the tree.
Nearly 10 years ago we planted a number of rarely seen Wild Service Tree saplings in Littleheath Woods which we have tended and nurtured and most of which have grown into beautiful trees, some up to 20ft tall. These trees, when mature, have showy creamy white flowers, sweet brown berries and attractive Autumn colour. The photos below show what we discovered in late June this year. The squirrels have completely stripped the bark from nearly all the trees, effectively destroying them. We are helpless to protect our woodlands against this type of attack.
Although they will damage all trees, the Squirrels' real favourite is the Beech. Next time you look up at one of these magnificent canopy trees, make the most of it. When they are gone there will be no more. Once the young trees reach around 20ft the squirrels will take out the tops, stopping their growth.
One light at the end of the tunnel is that in areas where Pine Marten populations are recovering (the natural predator of Squirrels) they are going after the larger, slower moving Greys and reducing the numbers to allow the Reds to return. Unfortunately this is happening in West of Ireland and North Scotland so it will take a long time to help us down here in Croydon.
So far there have been limited attempts to control Grey Squirrel numbers as most people don't realise how destructive they can be. So next time you hear someone commenting on how cute or amusing they are please tell them the truth about how much of a pest they actually are. Whatever you do please don't feed the Squirrels as this just makes the problem even worse.
Vanguard Way Badgers
The Badgers had been busy on the Vanguard Way. Croydon Council installed a temporary diversion in 2017 on the Bridleway when horseriders and walkers began to penetrate the surface of the path into the sett tunnels below. Under licence from Natural England the council installed measures to prevent the badgers further undermining the path. The photos show a chainlink fence some 1.2m deep extending approximately 40 metres and set vertically
to prevent further tunnelling under the path. Existing runs have been maintained and reinforced with pipe through the excavation. All is now backfilled and the badgers free to continue their lives without horses or humans dropping in on them unannounced!
Copper Beech Tree
Visitors accessing the woods from Foxearth Rd will have noticed a sizeable glade has opened up to the right of the entrance. This was the site of a very large and very old copper beech that had become badly diseased and therefore posed a serious risk both to visitors and neighbouring properties. The Council arranged for contractors to make the tree safe but unfortunately it was in a worse state than it appeared, resulting in an uncontrolled fall which damaged and brought down some surrounding trees. Although the demise of a veteran tree is always sad, the resulting open space is not necessarily a bad thing. Open areas introduce greater habitat diversity, encouraging a larger range of species, higher herb layer productivity and increased invertebrate populations. For this reason the FOLW committee has decided not to replant the area with canopy trees (trees that grow very tall) but instead to establish understory and shrubby type native plants, eg Guelder Rose (actually a viburnum), Spindle Tree, Wild Privet, Dog Rose, Purging Buckthorn. All these produce abundant flowers and berries which will benefit the insect and bird population. Hopefully at a later date we will also try to increase the wild flower diversity of the glade which will include, appropriately, foxgloves.
Horses in Littleheath Woods
Horse riding is permitted in the woods - there is one bridleway and one permissive bridleway. Unfortunately we have had a number of reports and seen evidence of riders using other areas of the woods.

Not all areas of the woods are suitable for horse riding. Horses can cause damage to habitats and churn up pathways, making them unusable in wet weather. Many of the non-bridalway paths also have hazards, such as badger sets and overhanging branches, that make them dangerous for both horse and rider. Many dog walkers also let their dogs off the lead in areas away from the bridleways and we want to avoid incidents that could be bad for the dog or horse.
We would therefore like to remind horse riders that they have to stick to the bridleways when using the woods. If anyone sees a horse being riden in other areas of the woods, please contact the Friends group with a description of the horse & rider (e.g. colour of horse, gender & approx age of rider, colour of riders' clothing, etc.) so that we can bring this to the attention of the local stables and hopefully prevent any further incidents.

Ash Dieback


There have been a number of recent news reports about Ash Dieback (chalara fraxinea) affecting trees at sites in the UK. The Friends group keep an eye out for a wide range of tree diseases and we are pleased to say that at this point there is no sign of Ash Dieback in Littleheath Woods. If you would like more information about Ash Dieback, this is available on
the Forestry Commission website
.
Scots Pine (22/03/17)
There are two mature scots Pine in Littleheath Woods, near to the Water Tower. These trees have suffered much damage in recent storms. The Friends have taken advantage of a natural clearing opening up the canopy to allow more light to the woodland floor where an old Oak near to the Scots Pines had fallen. The Friends have converted much of the usable timber into logs for firewood and cleared the Oak debris and collateral damage and have now planted several Scots Pine saplings on the site. The saplings have been reared by committee members, awaiting a suitable time to plant. One juvenile tree is already almost 2m high and has taken pride of place in our planting site.
Update June 2018: Sadly only one sapling survives.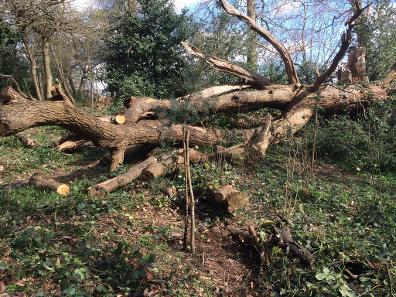 The latest minutes of meetings and other news items can be found in the documents below: